Flick Golf Free 'Eliminator' update out now
Get the latest Flick Golf update on the App Store and try our new endless game mode!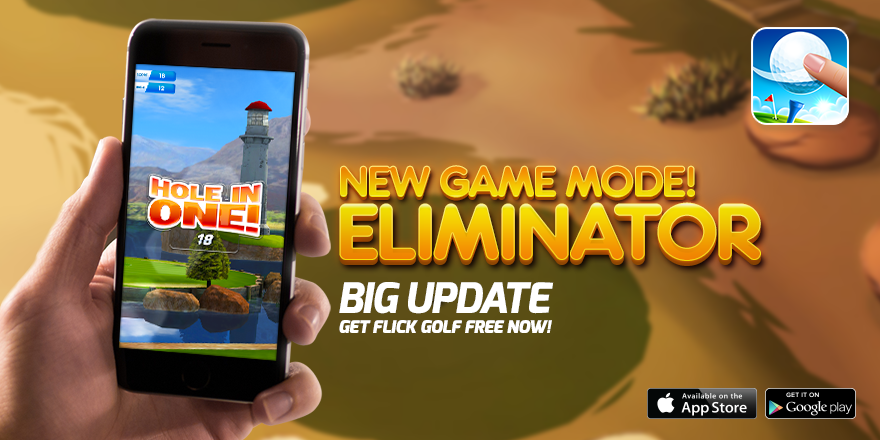 Classic game modes Quickshot & World Tour are now joined by Eliminator, an endless mode which challenges you to flick as many consecutive hole-in-ones as possible.
Returning fans will love the precision required to master Eliminator, while new players will find it's a great way to learn the nuance of Full Fat's signature after-touch controls. You'll all be inspired to go after crazy scores as the competition heats up on the leaderboards! It's perfect one-finger gameplay.
We've also remastered the entire game to make the most of the extra power in new devices like the iPhone 6 & iPhone 6 Plus. Enjoy Full HD graphics and shiny new menus, as well as side missions, which set new objectives across all three game modes.
The 'Eliminator' update is out now on the App Store and is coming very soon to Google Play.
Share It
29th April 2015 - Tags: Flick Golf, Flick Golf Free
The Masters 2015: Are you ready?
2015 Masters Tournament starts today! Join the competition with Flick Golf on iOS & Android.


Who do you think will take home the famous green jacket this year? Will Rory McIlroy book his place in the history books by completing his career grand slam? Can Tiger make a special comeback?
If you're travelling to the Augusta National Golf Club to watch the action, well then we're extremely jealous! If you're watching on TV at home, then grab your phone and hit some balls yourself in Flick Golf! You can play the game for free and we're releasing a big update very soon, which includes a brand new game mode. So get in ahead of time and practice flicking your balls. No clubs required!
Get Flick Golf Free on the App Store or Google Play.
Share It
9th April 2015 - Tags: Flick Golf, The Masters 2015